Carpet Cleaning & Window Cleaning
Serving Siskiyou & Shasta Counties, California
Established in 2015, Win-Win Cleaning Services has been providing professional window cleaning and carpet cleaning services. Our full scope of superior cleaning services will get you exactly what you need! When you're looking for window and carpet cleaning in Weed or surrounding areas, Win-Win Cleaning Services is here to answer all your cleaning needs! Call us at (530) 208-0956 today for a free quote.
---
Call for a FREE Quote
---
Highly Rated & Recommended
★★★★★
"Great job! Friendly guy, very thorough."
-Melissa M.
Eco-Friendly Cleaning Procedures
Win-Win Cleaning Services knows what it's like to be sensitive to chemicals, want a safe environment for kids and pets, and be health conscious. Eco-friendly cleaning services are a great way to keep your home clean while protecting the environment. These services use natural and non-toxic cleaning products to reduce the amount of chemical waste generated by traditional cleaning methods.
We utilize Green Balance products for carpets, area rugs, and upholstery which use benign ingredients formulated based on information supplied by the United States.
We have a DfE certification from the Environmental Protection Agency which allows us to promote integrating cleaner, more affordable, smarter solutions into cleaning practices.
We utilize Dr. Bronner's ALL-NATURAL carpet, area rug, and upholstery cleaning products which are made with organic ingredients for a fresh and clean feeling all throughout!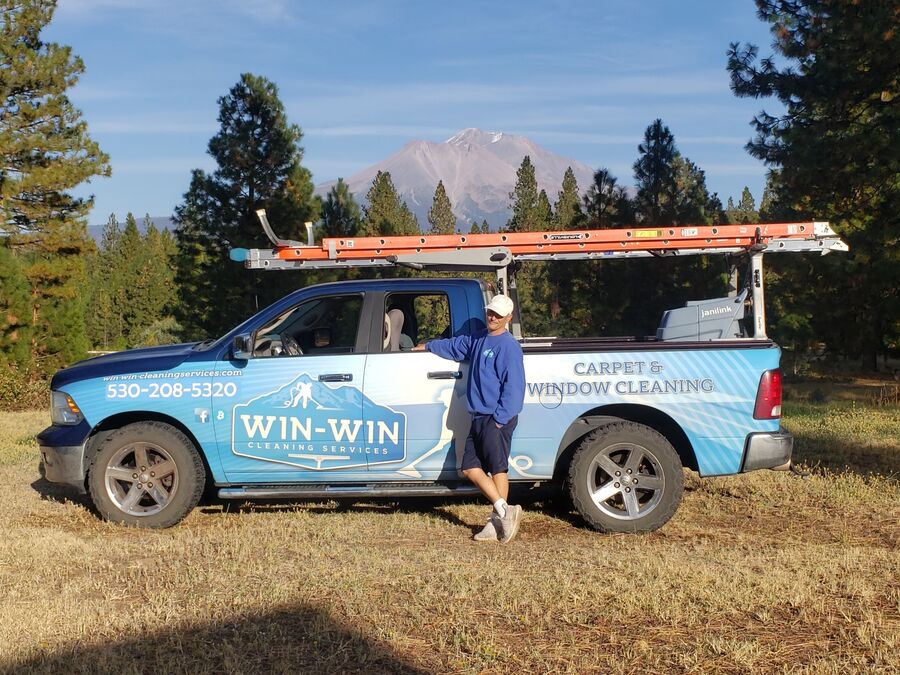 A Truly Clean Experience
It's a lot of work to completely clean your home. Now that you found Win-Win Cleaning Services, we are here to help take that burden off your shoulders! By providing window cleaning, carpet cleaning, area rug cleaning, odor and stain removal, gutter cleaning, and more, Win-Win Cleaning Services looks forward to making your life easier and more relaxed.
Win-Win Cleaning Services is a leader in Weed and Siskiyou County carpet cleaning. Whether you have wall-to-wall carpets, Oriental rugs, or area rugs, Win-Win Cleaning Services' professional cleaning methods will have your carpets looking new and smelling great. Need professional odor removal? Win-Win Cleaning Services specializes in permanently removing harsh, stuck-in odors!
For most of us, windows are literally a "pane" to clean - unless you have the right equipment and skills. Fortunately, Win-Win Cleaning Services has both! We not only clean the glass, but we also dust off the screens and wipe down the sills, all while taking special care with plants and furniture you have around your windows, leaving things just the way you had them – only cleaner!
Details Make All The Difference
Give us a call, and we will make your Weed area home sparkling clean again! Win-Win Cleaning Services offers environmentally preferred, environmentally friendlier cleaning services using more natural, biodegradable, and/or organic ingredients, which is helpful for homes with smaller children, family pets, or people with chemical sensitivities. Call (530) 208-0956 now.
---
Call for a FREE Quote
---